Gracida Wines and Meat Market host kick off for 2nd Annual Equine Salute Invitational
Carlos Gracida Jr. and Mariano Gracida, the two sons of Polo legend Carlos Gracida, along with their
business partner and founder of the Arion Group, Nick Valenta are ready to launch the much anticipated Gracida Wines in Palm Beach.  The celebratory event will take place at Meat Market Palm Beach on February 8th, from 6-8 pm. and will serve as the Palm Beach kick-off for the upcoming 2nd Annual Equine Salute Invitational, scheduled Feb. 23.   'Carlitos'  'Nano' and Nick will also take this opportunity to introduce the Gracida Legacy Foundation, whose mission is to enrich the lives of community youth through a love of horsemanship and role models dedicated to instilling leadership skills, discipline, and a champion mentality.
Carlos Gracida Legacy grows to 4th Generation
A third generation of polo player, Carlos Gracida Sr. launched The Gracida Polo brand in 2011. The late
legendary player and reportedly Queen Elizabeth's favorite player, was ranked 10 goals internationally for 15 consecutive years.  After his tragic accident in 2014,  the responsibility fell on Carlitos and Nano who along with their buddy turned business partner, Nick Valenta, changed the name to Gracida Legacy and have carried the torch since.
Gracida Wines added to Meat Market Wine List
After three years of research and multiple wine tastings across the globe, the Gracida boys went back to their Spanish roots and chose La Mancha wine region to produce their three wines- a sparkling light rose, a  chardonnay and a Tempranillo Gran Reserva.  Launched in 2017, and familiar to the equine Wellington community, the wines will now be available at Meat Market Palm Beach.  "
"It's difficult to find wines of this quality without a big price tag. The Gracida wines are affordable, and well-made quality wines for everyday drinking, representative of the Spanish wine culture.  They are wines you can suggest to guests looking for a great bottle but not wanting to leave their life savings on the table. I'm excited to add these wines to our wine list," says Jonathan Negrin, Wine Sommelier of Meat Market,  "Get ready to enjoy good wine, this is only the beginning for these boys, with their heart, and passion it will only get better and better!
"I thought creating Gracida wines would be perfect for the Gracida lifestyle brand.  It not only honors the four generations of horsemen that the name represents, but also, at our price point, everyone can enjoy it and experience the polo lifestyle with each sip,"says Nick Valenta.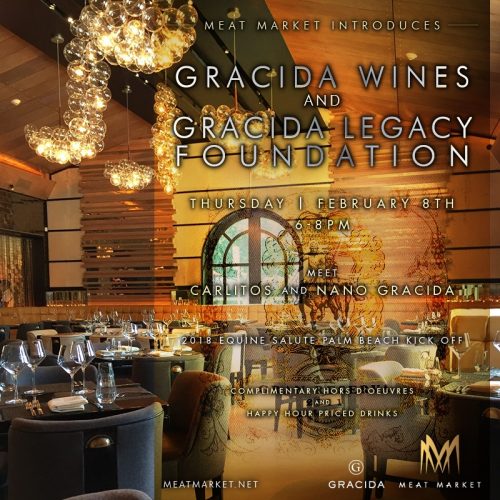 CLICK HERE TO REGISTER FOR THE EVENT
https://altimapalmbeach.com/wp-content/uploads/2018/01/IMG_0406.jpg
600
800
https://altimapalmbeach.com/wp-content/uploads/2015/07/logo6.png
2018-01-24 20:47:03
2018-04-27 00:55:38
Gracida Legacy introduces Gracida Wines
at Meat Market Palm Beach