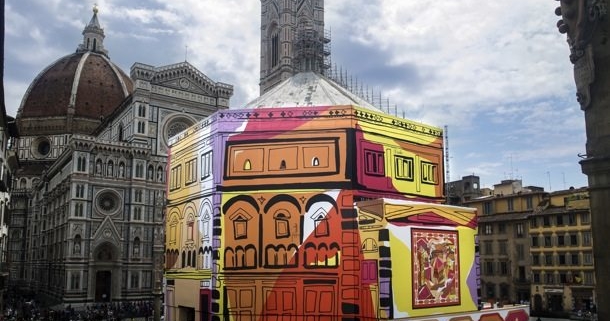 If you're planning a trip to Italy, a stop in Florence, if only to witness the restoration of the Baptistery, is a must.  The Pucci couture sheath, wrapped by the venerable House of Pucci a year ago,  remains a delight for tourists and Florentines alike.
The Pucci family is one of the city's founding families and its Renaissance-era Palazzo is around the corner from the Baptistery.  Laudomia Pucci has kept her father's passion alive, spearheading efforts to mark the 60th anniversary of Florence's Center for Italian Fashion with her father's original 1957 designs. Pucci used over 20,000 scarves to drape the iconic Baptistery of San Giovanni in Florence during its restoration. "Quite amazing to think the foulard Emilio designed in 1957 would be draping the Baptistery over 50 years later!." A limited edition of the 'Battistero' scarf is available at Emilio Pucci's stores in Florence, Rome and Milan as well as on emiliopucci.com, with proceeds benefiting this iconic monument's continued refurbishment, scheduled to be completed September 2015.
Emilio Pucci not only dressed The Baptistery in Florence Italy, and designed the limited edition scarf, but then went to the next level– Presenting scarves of the world.. What's next?
Click here to read more and to view the Battistero scarf in full splendor
https://altimapalmbeach.com/wp-content/uploads/2015/07/Monumental-Pucci_Florence_06.2014_02.jpg
405
610
https://altimapalmbeach.com/wp-content/uploads/2023/05/altima-logo-800x257.png
2015-07-29 21:12:53
2018-03-20 09:27:22
Going to Florence soon?