Steve Hartman's collector driven gallery treats its clients like co-pilots 
By Brandy Guthrie
The coin, stamp, and baseball card collections of Steve Hartman's childhood led to his eventual obsession with wine and art–the latter of which has transformed the one time Wall Streeter into the internationally renowned curator and owner of Contessa Gallery. Founded in 1999, Contessa Gallery has locations in Palm Beach and Cleveland, with a strong clientele extending beyond both regions, reaching many parts of the globe.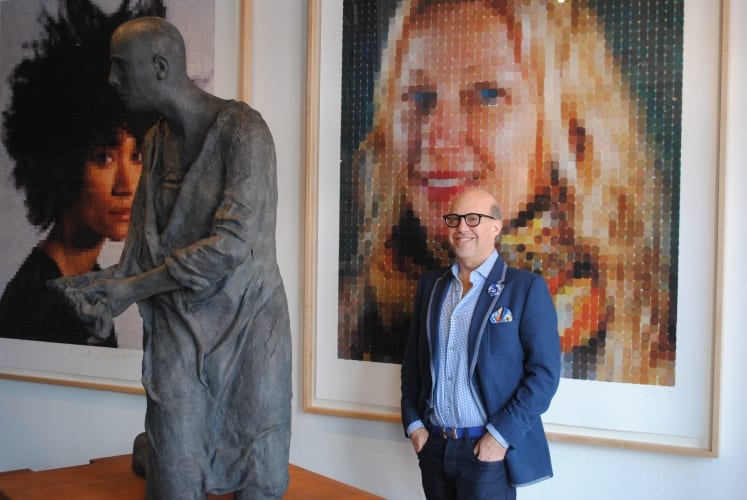 Steve Hartman
To consider Contessa as simply another gallery would be a great understatement and disservice. Not only is Contessa amassing a stable of the world's greatest contemporary artists while receiving regular praise at shows and fairs, but the gallery proudly owns an inventory of works from a variety of artists, unbound to period or genre. Works from Rembrandt, Picasso, Andy Warhol, Robert Indiana, Chuck Close, Louise Nevelson, Aristide Maillol, Auguste Rodin, and Mr. Brainwash illustrate the range of artwork at their disposal.
Beyond its vast holdings, Contessa Gallery's Fine Art Dealers Association (FADA) membership grants it access to an exclusive network of dealers, offering endless potential for tailoring collections specific to client taste and vision. FADA is an internationally recognized, invitation only organization. Encyclopedic knowledge of a given subject area is widely understood as a prerequisite for membership. Contessa Founder Steve Hartman happens to be a one time board member turned President; entrusted by his peers to lead the vision of the membership and the industry.
In addition to being hardwired with the mind of a creative collector, Hartman was fortunate to also be bestowed with a natural business acumen. 15 years on Wall Street, managing the finances of the truly affluent, allowed these instincts to develop. Hartman's keen taste, extensive holdings, and business prowess combine to make a rare hybrid in the art world:  a gallery that understands creativity and finance! This allows him to confidently assume the role of consultant, curating collections for Forbes 400 members, ArtNews Top 200 Collectors of the World, Museums, institutions, and new emerging collectors. Perhaps his most valuable skill acquired on Wall Street? The ability to instinctively identify what is undervalued, fairly valued, and overvalued–another way Contessa appeals to the elite, affluent collector. Striving for a truly collector driven client experience, he uses his extensive knowledge and resources to curate one of a kind collections that have deep personal meaning to each client. These collections can be legacies that are passed down through generations of family and or to museums.
Hartman's instincts direct his approach to the creative side of the operation as well. He attributes much of his success to his uncanny ability for not only finding the right artists, but finding them at the right time. In his words, "Whether you're talking about Picasso or any great old, modern, or future master, most artists go through a developmental phase, different styles, and then a mature phase. Some artists eventually go through a declining portion of their career." "I've developed an ability for spotting the right time to be involved with an artist and selecting the best pieces by those artists for my collectors' collections…and that's an art in and of itself."
Brendan Murphy, 19 Wishes
As art fairs continue to skew toward contemporary, Contessa has followed suit with its programming. Electrifying Art Miami 2018 exhibitions from Brendan Murphy and Mr. Brainwash recently received widespread acclaim and media attention. Throughout the process of staying active and setting art world trends, Hartman remains conscientious of Contessa Gallery's customer driven philosophy and world class service.
Mr. Brainwash, Freddie Mercury 
What's next for Contessa? Two big art fairs in the summer of 2019: Art New York on May 2-5 on and Art Market Hamptons on July 5-8.
Hijack, When Life Gives You Lemons
For more detailed information about the gallery, its artists, exhibition history, art fair schedule and philanthropic support, please visit www.contessagallery.com.
For a personal conversation or a private consultation, contact Steve Hartman at 216.956.2825 or via email at steve@contessagallery.com.